Invite Your Member of Congress to Tour your Facility or Laboratory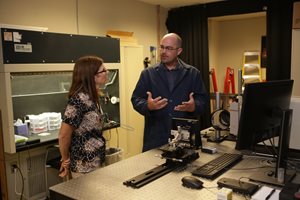 Want your members of Congress to understand the value of optics and the impact on their Congressional district/state as they consider important funding bills? Invite a member of Congress to tour your laboratory or facility.
Why do a facility tour?
Members of Congress care about the economics of their district. Touring a laboratory or facility allows members of Congress to see first-hand the cutting edge research happening in their district and to connect with local businesses. These tours provide a great opportunity to start building a relationship with your member of Congress, highlight optics, and allows the member to see the jobs created by your company. Members are in their home districts during the Congressional District Work Periods, especially in the month of August. It is especially important this year given the proposed cuts to federal R&D.
The NPI will make it easy for you to arrange
The National Photonics Initiative (NPI) will work with you throughout the process and will make it easy for you. NPI staff will be happy to help you along the way.
NPI has put together a toolkit that will be helpful as you plan the tour. View the NPI Toolkit
For more information or to have NPI staff help you through the process, please contact David Lang (
dlang@optica.org
) with Optica (formerly OSA) or Jennifer O'Bryan (
jennifero@spie.org
) with SPIE.
(
Photo Top: Rep. Martha McSally (R-AZ) visiting Edmund Optics in Tucson, AZ
)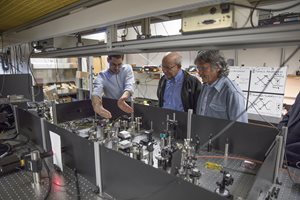 (Photo Left: Rep. Peter DeFazio (D-OR) tour the University of Oregon's Center for Optical, Molecular and Quantum Science. Photo credit: Chris Larsen, University of Oregon)