Advocate for science, optics and photonics
Virtual Congressional visits Week 2022: May 2-5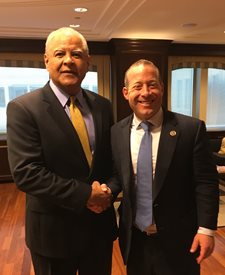 NPI Steering Committee Chair Ed White and Rep. Josh Gottheimer

Join the National Photonics Initiative (NPI) for Virtual Congressional Visits Week taking place May 2-5, 2022.

This is a great opportunity to advocate for science, and specifically optics and photonics, to your members of Congress and their staff and to let them know what is happening in your region. These virtual meetings will focus on R&D funding, Congressional Optics & Photonics Caucus, and other legislation relevant to optics and photonics. The specific topics for the 2022 visits will be sent to participants closer to the date of our visits.

NPI staff will arrange your Congressional meetings. Participants will be grouped into teams with other attendees from their state and accompanied by NPI staff or other experienced advocates.
For questions about Virtual Congressional Visits Week, contact Brandy Dillingham at bdillingham@optica.org or Jennifer O'Bryan at jennifero@spie.org. To sign up, fill out the form below.
Schedule (tentative)

May 2
Mandatory training session

May 2-5
Virtual Congressional meetings will take place May 2-5. Meetings are scheduled based on the availability of the Congressional Offices.


Please Read Before Signing Up

When you sign up, staff will start to request and schedule your Congressional appointments. Please carefully consider your schedule before signing up. We understand that life and work sometimes causes plans to change. If you sign up and are no longer able to attend or you have time limitations, you must notify the NPI team so that we can reschedule or cancel the meetings made on your behalf.

Once you sign up using the form below, you will receive an email confirmation from Brandy Dillingham within a week of signing up. If you do not receive a confirmation email within a week after signing up, please email Brandy Dillingham. We look forward to having you join us for the NPI Virtual Congressional Visits Day.

Deadline to sign up to attend the 2022 Virtual Congressional Visits Week is April 18, 2022.

Virtual Congressional Visits Week Registration Form: